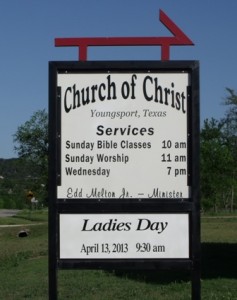 Our ladies had a successful day of Bible study and fellowship at this year's Ladies Day on April 13, 2013.  We wish to express your gratitude and thanks to Rosanne Lawler for organizing this successful day.  There were 45 ladies in attendance including members from local congregations.  Registration began at 9:30 am.  The day included prayer, activities, singing hymns, and an inspiriational message by the guest speaker, Marie Frith, followed by a luncheon.  We also extend our thanks to Elizabeth Combs and Thresa Goodnight for leading the activities and singing during the program.
Our coordinator and organizer, Rossane Lawler, developed the program for the day under the guidance of our guest speaker Marie Frith. The program included a thought provoking article written by Roseanne.
Feathered Faith
You can see it in her eyes; the patient, unblinking stare as she waits on her nest.  It keeps her siting on her eggs in the stiffing heat of her in can nest, through windstorms, rain and hail.  She waits and hopes.  What are her thoughts during all those hours?  Does she smile in her heart as she pictures her babies-to-be?  When the eggs begin to crack and babies emerge, the real work begins.  She must travel constantly finding and carrying small bugs to her brood, trying to alternate so that even the smallest gets its hare.  Even now, tragedy can strike, A snake, cat, or blue jay can raid the nest and take all her young.  Any amount of screeching and fluttering she does will not deter the predator.  After the tragedy, what does she do?  A day or two later, she and her mate resolutely begin to build another nest to start over with another batch of eggs.
Scientist tell us this is all instinct.  I won't argue with that, but I think there can be faith lessons for us.  Having faith doesn't mean we just sit back and wait for good to happen.  We, like the birds, must incorporate planning, preparation, patience, persistence, hope, cheerfulness, fearlessness, steadfastness, selflessness, diligence and perseverance into our lives.  We can learn great life lessons from God's creatures.  "So then faith cometh by hearing, and hearing by the word of God."
Romans 10:16-18
We are especially grateful and extend our sinceriest thanks to Marie Frith for serving as the quest speaker again this year. 
Our ladies study centered around the topic of Faith and in particular our guest speaker selected a specific story about an individual's dealing with the subject. That indivdual was Corrie Ten Boom and her story is told in The Hiding Place by Corrie ten Boom with comments from John and Elizabeth Sherrill.  Click on the two links below to listen to Marie's narration and study in what faith can do in a person's life and how that can give us assurance in our walk with God.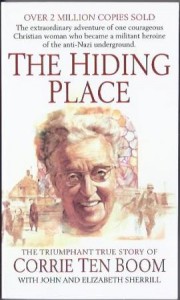 Looking at the Meaning of Faith in Bible

"When a train goes through a tunnel and it gets dark, you don't throw away the ticket and jump off, you trust the engineer."
"Any concern too small to be turned into a prayer is too small to be made into a burden."